Join a team that guides each other
"I love my job here at Vortex! I can bring my whole self to work, and I feel like part of the team."
"Vortex has given me the opportunity to be proud of the journey and path I've chosen to succeed professionally."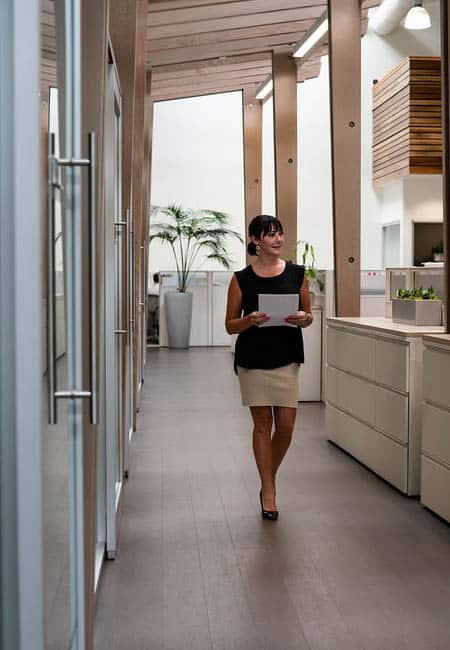 Vortex is committed to going above and beyond for both our Customers and Employees.
A Career at Vortex is your opportunity to make a difference, challenge yourself, and grow professionally while working alongside dedicated and hardworking people.
Collaborative
We work together to achieve shared goals by combining our diverse expertise with effective communication and cooperation, we foster synergy and enhance creativity.
Supportive
We have an encouraging approach that provides assistance and guidance to all our employees and creates an environment to promote well-being, growth, and success.
Growth
Vortex supports the expansion of knowledge, skills, capabilities, and the realization of potential over time through training and learning experiences.
Energetic
We are dynamic and lively leading to an engaged, productive, and a positive atmosphere. An energetic approach drives forward momentum and a sense of spirited accomplishment.
Team Building
We prioritize fostering a strong sense of camaraderie among our employees through engaging team-building events that create a fun and inclusive environment for everyone to bond and build lasting connections.
Caring
Vortex contributes to nurturing positive relationships, creating a nurturing environment, and making a lasting positive impact on individuals.
We Promote from Within
Vortex has allowed me to grow professionally, personally, and financially. It is the place to work if you truly want a career in life, I am the proof. I was a tech for 7-years and have been in management for another 29 years. Vortex can make your dreams come true if you really want it! I love coming to work every day at Vortex. The comradery is unsurpassed more than any other company. A great work environment makes everyone happy and more successful. If you enjoy what you do at work, you will be happy in life. Vortex has been and always will be about taking care of their employees personally and professionally.
When I began at Vortex, I was hired on as the Warehouse Associate. On my second day, I was moved into the field as a Crewman. Management was happy to give me the opportunity to shine, within a few months I was running my own truck and was lucky enough to be sent to our training center to become a Certified Automatic Door Inspector. After running a truck as a foreman for approximately 4 years, I was promoted to Service Advisor. This fast-paced growth was all due to having strong leaders in place, willing to help me grow. I know that Vortex is a great place to work and succeed at my goals because of the culture being so unique. There aren't many companies that take care of their customers and employees the way Vortex does. I owe so much to all the mentors here at Vortex that have shared their knowledge and experiences with me over my time with the company. This is why Vortex is the place to work.
I was always intrigued and drawn into the kindness and compassion of our leadership teams throughout the years. It was enough to keep me engaged and lead me down the career path I have chosen. To be able to travel, grow and learn with my teammates whether it be at reward trips or conferences has kept my passion and desire to grow with Vortex going.
Great Reasons to Work at Vortex
Professional Growth and Development
Vortex offers opportunities for continuous learning, skill enhancement, and career advancement. We can provide you with valuable training and exposure to new challenges, helping you reach your full potential.
Learning Environment
Being surrounded by talented colleagues fosters a culture of continuous learning and knowledge exchange.
Compensation and Benefits
Competitive salary and a comprehensive benefits package are important factors in job satisfaction.
Recognition and Rewards
Recognize and reward employee contributions boosting motivation and job fulfillment.
Company Reputation
A positive company reputation boosts your sense of pride and engagement in your work.
Challenging Projects
Engaging in complex and stimulating projects fosters problem-solving skills and personal satisfaction in contributing to impactful outcomes.
Industry-Best Training
State-of-the-Art Training Center was developed to enhance your career at Vortex, gain mechanical knowledge and receive experience with all types of doors and door products including dock levelers, as well as electrical troubleshooting.
Strong Safety Culture
Vortex places a strong emphasis on safety in our workplace, ensuring that everyone goes home safe every day!
Positive Work Environment
We make it a point to go out of our way to be sure that our Team members feel valued and appreciated. We believe that when people feel supported in their work and at home, they are able to perform at their best.
Join our team!
Join a team that guides each other. At Vortex, we are committed to care for, support, and guide all employees to do their best work possible. We strive to hire, retain, and promote a diverse group of people who can represent our values, delightful, dynamic, and dedicated. We are committed in our people centric culture and in further advancing our diversity and inclusion efforts at Vortex.
View Career Opportunities
What Our Employees Are Saying
Sarah – Recruiting Supervisor
I love my job here at Vortex! I can bring my whole self to work, and I feel like a part of the team. Vortex is like a family and my team is all hands-on deck and does whatever it takes to wow the applicants to join the Vortex team. I like that Vortex has an innovative approach to growing and expanding Nationwide. I really enjoy contributing to an exciting/forward-thinking/fast moving company like Vortex!
Daniel – Service Manager SDN
Working at Vortex has been very dynamic for me, balancing between fear and celebration for most of my career. I've been encouraged to take risks and rewarded for looking beyond my role and situation for solutions that help directly as well as the companywide. The company is appealing to me for many reasons, a big part of the attraction is the variety of people, products, and services that help keep the experience fresh.
Lori – CSL SVY
I have been with Vortex for 15 years since I was a young adult and Vortex has given me the ability to learn and grow as a professional and I am grateful that this has been a family friendly place to work for people that have large families such as myself. The growth opportunities here are reachable and I am thankful that Vortex has seen the value in me and gave me the chance to show that here!
Sumer – Customer Service Trainer
I love working for Vortex, they truly care about their employees and their own personal development and growth within the organization, I am a testimony to this. I was recently promoted to an incredible opportunity where I now get to travel to all existing and new service centers to provide hands on training! Just furthermore shows the value Vortex puts on investing in their employees training and development. This is the Place to Work, where your career growth matters.
Brennan – Service Manager
Having been with Vortex for over a decade, and starting from the bottom, I can say that hard work is definitely rewarded. If you invest in them, they will invest in you.
Jacob – Service Advisor
Vortex has got to be one of the best companies to work for. You are truly in charge of your own future, and you can rise as far as your hard work and perseverance will take you!
Tricia – Customer Service Leader
Vortex is a remarkable company to work for! In my 19 years with Vortex I have witnessed incredible changes and growth, but the warmth, caring and support that I have always received from the Leadership Team has been a constant. I have learned and grown in knowledge and ability with our company, and I am proud to be a part of this amazing organization.
Robert - Team Leader
At Vortex, I've been given the opportunity through hard work and dedication to progress in my career. I started as a Crewman 18 years ago, worked my way through Service Tech, Service Manager and am now a Team Leader. Vortex has given me the opportunity to be proud of the journey and path I've chosen to succeed professionally.
Roy - Service Manager
After 5 years of running a truck, I was promoted to the position of Service Advisor, and that's where my career really began to take off. I love the fact that they promote from within the company so there is always room to grow here. I hope to be a Regional Coach one day, and Vortex makes that possible because of the continuous growth.