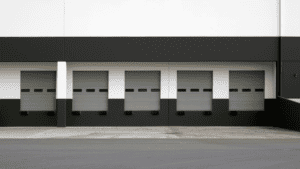 Given the proportions of most warehouses, few people would suspect size and spacing would be an issue when it comes to doors. However, while commercial roll up doors are designed to save space, they still require room to accommodate the opening, hood, mounting bracket, and vertical guides.
As a result, business owners need to ensure their doors have sufficient clearance before they're installed. Once they're familiar with commercial roll up door sizes, they'll be able to choose an entryway that provides safe and convenient access to their building.
Roll up Commercial Doors vs. Overhead Doors
Roll up doors and overhead doors have no standard height or width. Because loading doors are typically 8-10 feet high and 8-8.5 feet wide (to accommodate standard cargo trucks), most are built to these dimensions. However, they can be custom fit for larger or smaller openings ‒ whatever meets the needs of your business.
While overhead doors serve the same function as commercial roll up doors (access, security, efficiency, and weather resistance), they require significantly more headroom or backroom. The open space above or behind them has to at least be equal to the height of the door itself. For buildings with ducts, pipes, and other equipment mounted to the ceiling, this can be a major impediment.
Commercial Roll Up Door Sizes
Commercial roll up doors offer the same advantages as overhead doors, but require significantly less clearance ‒ inches rather than feet. When it comes to sizing, the biggest concern is headroom. The taller the door, the more space you need for the hood and motor.
While they'll never take up as much space as an overhead door, the amount of room roll up doors require may be a concern in some buildings. For example, a thirty-foot door made of standard steel or aluminum requires at least 14 inches of headspace and backspace. An insulated roll up door can require as much as 29 inches, depending on its height and thickness.
In addition to overhead space, commercial roll up doors also require room to the left and right for the guides. Ideally, each door would have at least 12 inches on either side, but modern doors can make do with six. Anything less may compromise the integrity of the building.